I got the sweetest little comment from ANONYMOUS... that just tears me up!
I love names and faces! Love 'em! Come out of the woodwork, won't cha?
Either way, it was a super sweet comment and she called herself a "fan"
which, HELLO... I Love! haha ;)
(I say as I pull down my shades and toss my hair over my shoulder... I kid, I kid!)
She asked What I will be making for the men in my life for Christmas.
GOOD QUESTION, my friend.
I'm doing a joint gift for my Mom and Dad this year... it's going to be framed silhouettes of all of their grandchildren, so I got off easy on that one. I don't think I'll be doing anything handmade
for WG for Christmas... I've already made him stuff. & my siblings and I draw names & I got my sister... so I don't have to worry about my brother! Easy Christmas for me! However, I do have a few ideas for you!
coffee sleeves for the caffeine addict
super simple lyric or quote painting
pet silhouette pillow
& I'll give you another handmade gift idea for the men folk at the
Holiday How-To
event
WHICH HAS BEEN CHANGED TO
DECEMBER 7th
Ya' hearrrrd?
We're giving you a whole extra week to put on your thinking caps and share a how-to with the world! Being that I have a little extra time, I may even do ANOTHER how-to for you fine people!
How ya' like them apples?
You love 'em, right?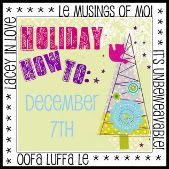 Grab the button over on the right & spread the word!
I totally missed my guilty pleasure Tough Love tonight. Gonna hope to catch a re-run later tonight! But for now I need to shower, do my eyebrows & nails, gather up all of my stuff for work, medicate myself, make a list of to-dos & SLEEEEEP.
Sweet Dreams Lovies :)