Paper flowers have existed nearly as long as paper. The art form became popular and widespread in the US during the Depression when creative people wanted lasting beauty on a shoestring.
The seeds of paper flowers were sewn long ago, and the art form has grown into a beautiful and lasting accent worthy of a wedding celebration! By using handmade acid-free paper in the place of non-durable tissue papers and crepe papers, Lovelee flowers bridal bouquets resist fading and will be around to add beauty and memories of your special day for years to come! Adding to the unique art are quality beads and stones used to represent intricate flower centers... each creation is completely unique and original, just as in nature.
That bout! The bouquet! I love love love it!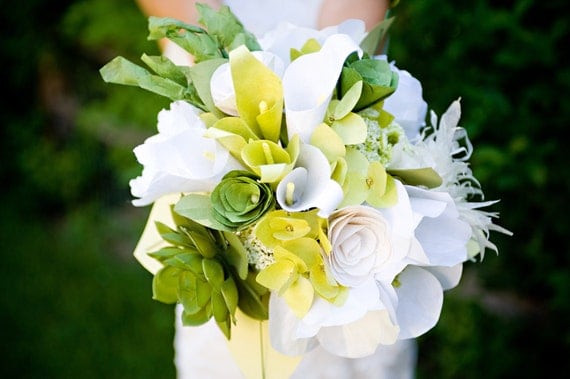 Do you see that succulent? I'm dying over it.
Lovelee Flowers has so many beautiful options(and of course can accommodate your wishes in the form of custom orders as well)! Paper flowers aren't just for weddings, but can be used as decor in your home or office, tied atop a present or given as a gift!
For a chance to win a 1 of the following from LoveLee Flowers...
Custom 6" bouquet
Orchid arrangement (photo on website)
Small tree (photo on website)
or 40% anything in LoveLee Flowers shop
1) Visit their
Website
and come back here and tell me your favorite item
2)
♥
Favorite
them on
Etsy
(comment your Etsy username)
3) Like their
Facebook
page (comment your name on facebook)
4) Pin this giveaway to Pinterest using the photo below
You must be a follower of Lacey in Love in order to enter giveaways.
The winner will be announced April 7, 2012