{no rhyme or reason for sharing this photo except that I like it}
[one]
When I get a day to myself, I like to...
Organize, shop, clean, cook... I don't like to just lay around on my bootay, ya got me?
Unless I'm blogging, in which, I'm laying on my butt AND doing something.
[two]
High School was...
entertaining. It had it's ups and downs. I could take some & leave some.
I had a great Senior year, thanks to a ton of activities and awesome scheduling...
I'd do that year over again if I could. (ehh, okay... maybe not)
[three]
A little dream I have is...
to travel... a lot. I'd like to see America.
[four]
A big dream I have is...
to be able to stay home with future babies & be the Mom I think I was meant to be.
Also to be successful enough in business to be able to let other people handle the hands on work...
which would make the first part a lot easier.
[five]
If I could drive any car it would be...
I'm not a car person. Whatever MR tells me is safe and reliable will likely be what I go with for my next car.
[six]
A time that I felt really & truly beautiful was...
I know it's a mega cheese answer, but I feel most beautiful when I'm around MR.
I think that's when I'm happiest. Happy is always beautiful.
[seven]
Tomorrow I will...
possibly go with my friend to her 1st wedding dress fitting, [or] go to a craft show & then head out to Cooter Brown's to watch the LSU game & celebrate a friend's birthday
fill in the blanks & link up with: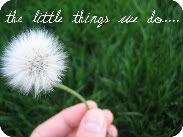 HAPPY WEEKEND, Y'ALL!
Hope you do something lovely